Minimally Invasive Spinal Fusion
A spinal fusion procedure is a surgery to permanently join two bones together so there is no longer movement between them. We offer minimally invasive spinal fusion procedures that typically result in scars no more than 3 centimeters long.
Who Benefits From Spinal Fusion?
Those suffering from stability issues, deformities, or pain are prime candidates for the procedure. Here's a closer look at medical conditions that might call for spinal fusion:
Spinal Stenosis

Chronic back pain

Spinal fracture

Spinal weakness or instability

Degenerative conditions

Severe arthritis in the spine

Spinal instability or weakness

Herniated disc
To determine whether a spinal fusion will help a patient's condition, a medical consultation with a spinal surgeon is necessary. A thorough history of the condition will be gathered. A physical exam and neurological exam will be completed to determine if there is any neurological damage. Imaging studies that may include a CT or MRI are also need to determine the appropriate diagnosis and form of treatment.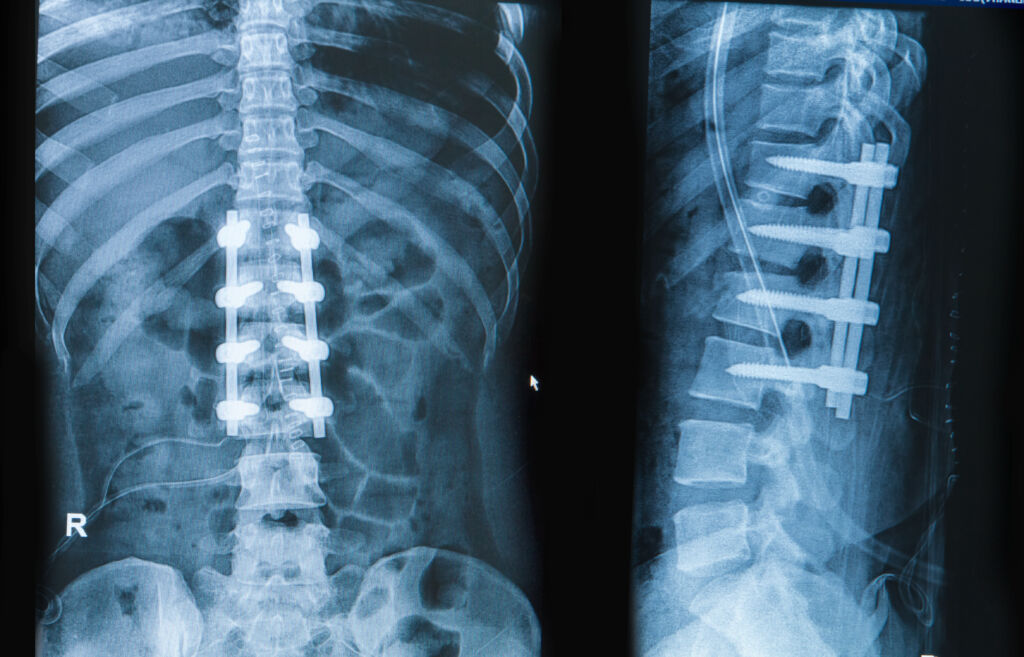 Patients undergoing spinal fusion surgery will be under general anesthesia. Depending on the location of pain and the finding on the imaging doctors may opt for one of the following:
Lumbar spinal fusion

Cervical spinal fusion
Here's what to expect:
The surgeon makes an incision to access the spine, either in your back, front of neck, or back of neck

If the surgeon is using instrumentation they will place an implant within the space between two spinal vertebrae. Then screws and rods may be used to hold the vertebrae together, so they can heal into one solid unit.
If the fusion is non-instrumented, they will use bone. This may come from a bone bank or your body, usually the pelvis. If it's the second option, the surgeon removes a portion of your pelvic bone.
The correction of movement between the bones of the spine can eliminate the severe pain caused by a variety of spine disorders
Postoperative Therapy & Care
Many of these procedures can be doen outpatient, meaning that the patient will go home the same day of surgery. If the procedure is not outpatient, a patient will need to stay at the hospital for a few days for observation.
Pain might occur but can be easily managed with medication. If you exhibit the following signs upon returning home, contact your doctor:
Tenderness or swelling

Excessive drainage (changing the dressing every 4 hours)

Chills

A fever higher than 100.4 F
As it can take 6months to a year for bones to completely fuse use together, your doctor might recommend using a brace. You might also require physical therapy to move efficiently and properly.
Potential Risks & Complications
Although spinal fusion is a relatively safe procedure, it still carries the following risks:
Infection

Bleeding or blood clots

Poor wound healing

Blood vessel or nerve injury

Pain where the bone graft originates from
Professional spinal care and pain care experts are standing by to assist you. If we are not able to answer your question without an on-site appointment, we can schedule one for you.